Slow Streets Slow Ride, Sunday Dec 4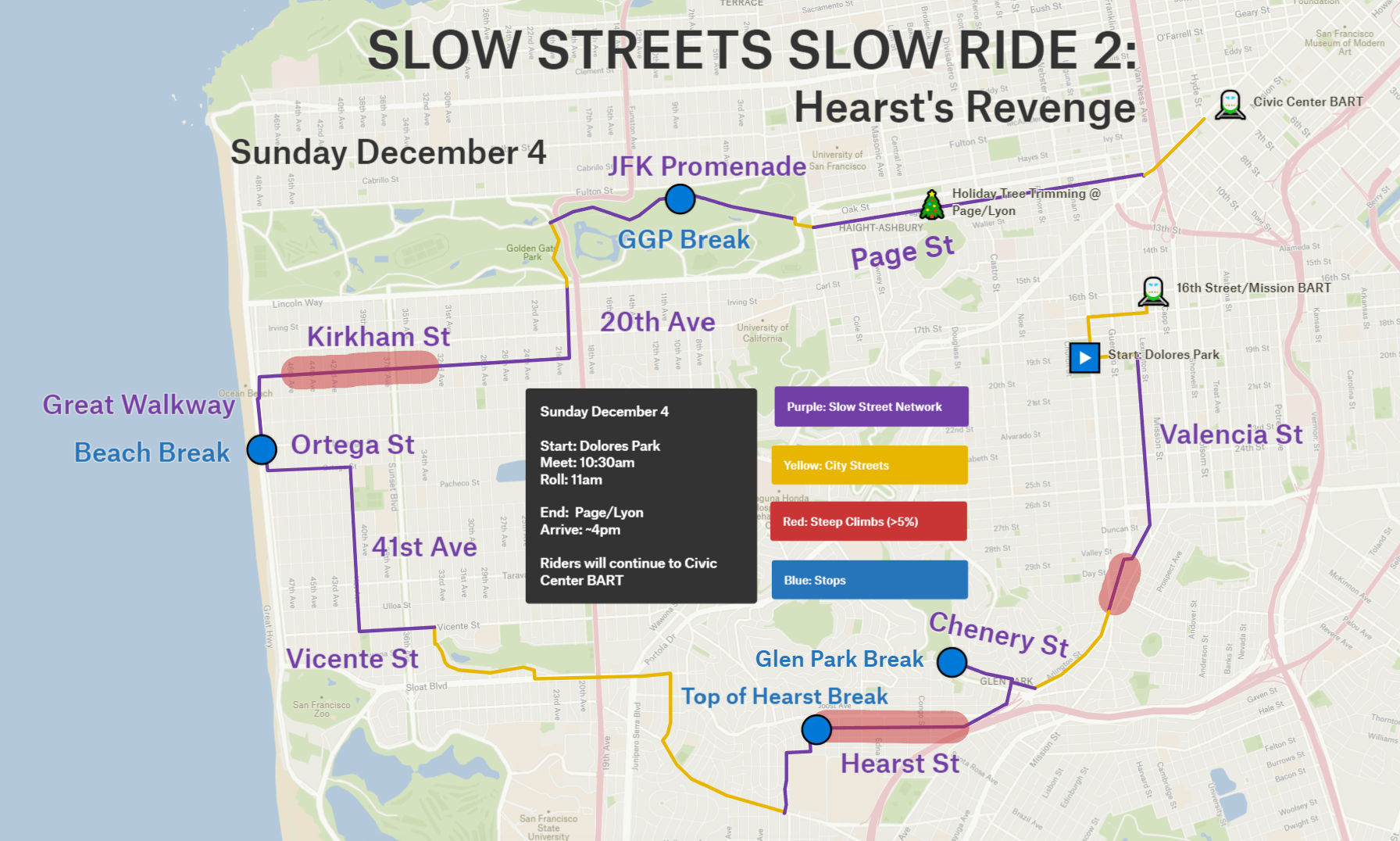 Hi all,
The SFMTA Board is considering a measure for permanent Slow Streets on Dec 6: https://www.sfmta.com/project-updates/fall-2022-slow-streets-update
So it's time for SLOW STREETS SLOW RIDE 2: Hearst's Revenge. Sunday Dec 4! Meet at Dolores Park at 10:30am, we'll roll by 11.
This route is inspired by Abe Bingham's Streamline Map being circulated by @lukespray and @SFParksAlliance We need a truly connected network of Slow Streets instead of one-off projects of only a couple blocks here and there. Let's have this within 5 years
The @SFMTA_Muni proposal is for 15 permanent Slow Streets. Many removals from the 2020 plan: @SlowLakeStreet is "no recommendation" despite huge community support. Chenery and Pacific removed with no alternatives. All Slow Streets removed in the Sunset. Still none in SoMa, TL, Nob Hill, BVHP etc.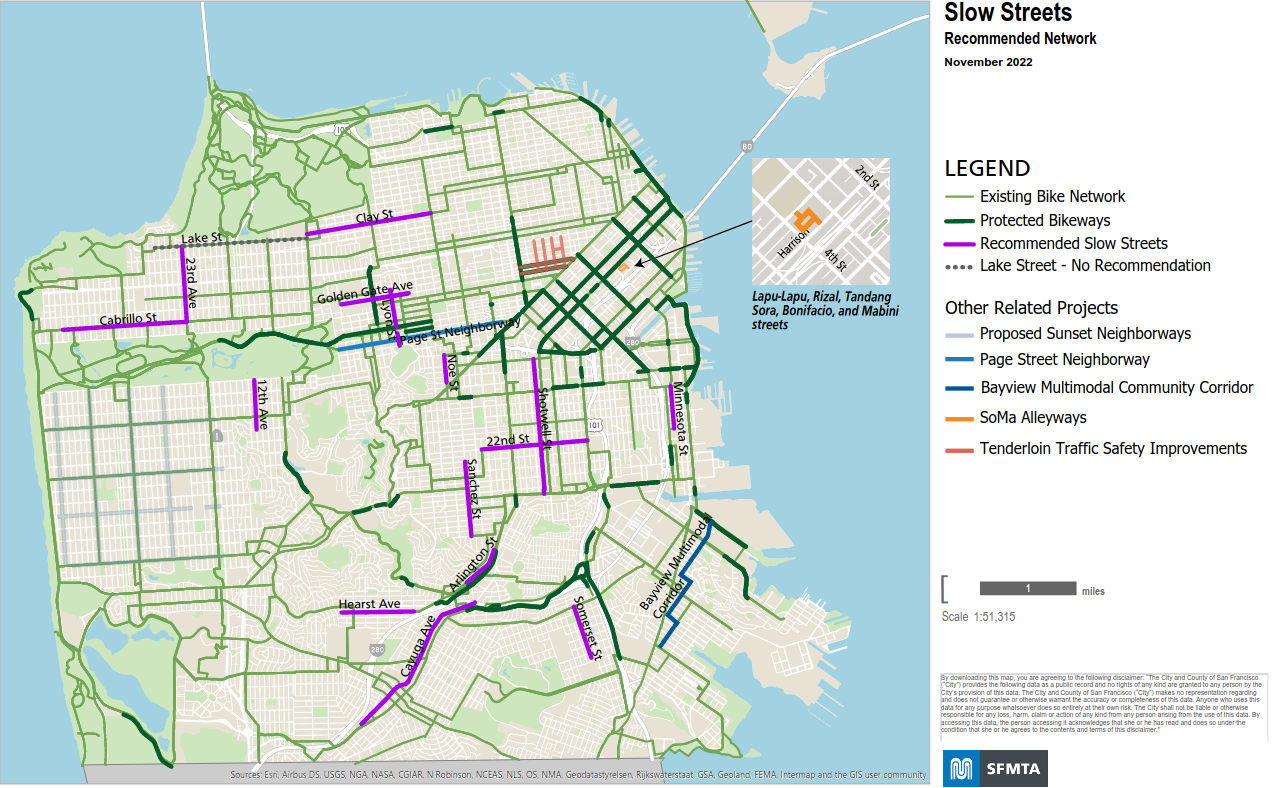 We want to emphasize how frustrating it is that the Tenderloin has no Slow Streets. This is the densest neighborhood in the city, where 80% of households don't own cars. But the streets in the TL are wide dangerous highways so rich people can cut through to the Marina/Nob Hill.
Similarly, popular and well-used Slow Streets like Chenery and Pacific are being removed without good reason. There is no community opposition. It seems like policy for SFMTA is to remove any street without well-organized support. This is not sustainable or effective governance.
After we won Car-Free JFK and kept the Great Walkway on weekends, it seems like @SlowLakeStreet is the next big battleground. The Prop I losers are focusing their energies on Lake, let's hand them another loss.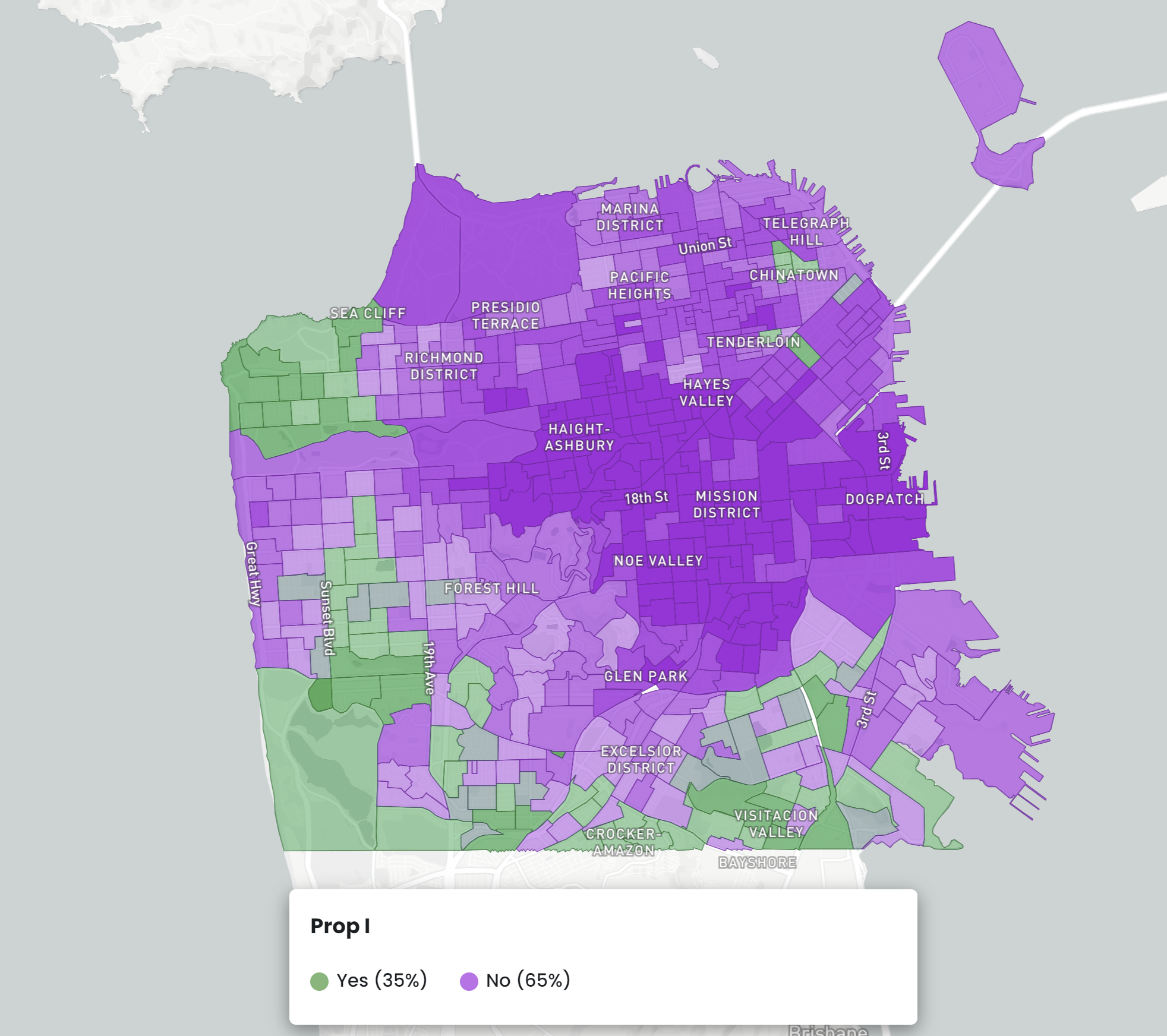 These communities and many others have joined together to create an ambitious People's Slow Streets plan that urges the SFMTA to adopt *all* Slow Streets, recognizing that the omission of any street compromises the entire network. More details here: https://docs.google.com/document/d/1AocFFEDJb6xAlh9wNxhYYgQb_yhhqtvaAc3k9H330No/edit
Make sure to come to the SFTMA Board meeting on Dec 6 and give public comment supporting the existing Slow Streets and push to the SFMTA to go further for a complete network. We cannot do this street by street. We need a plan and we need to stick to it.
We ride to bring out the community to demand better. Though we're making progress on car free spaces and a safer transportation system, it's clear that until we have better process we're going to have to fight for every single inch. So that's what we'll do. See you December 4!