Cruise and Waymo robotaxis are a disaster for San Francisco and the larger fight against car dominance. They are regulated by the California Public Utilities Commission (CPUC) and the DMV. Safe Street Rebel first made headlines about these companies' broken promises and vulnerabilities with Week of Cone
Problems with AVs
Our Demands: The CPUC must roll back previous authorizations while the impacts of AVs on vehicle miles traveled (VMT), climate change, pollution, and public safety are studied by an independent government body, and demand that AV companies share unredacted incident data with the public.
Accountability: Robotaxis are effectively above the law. Their fleets cannot be cited for traffic violations. It is essential that this serious loophole be fixed before they be allowed to expand operations. Furthermore, as they refuse to share incident data, the public, as well as city agencies, must rely on social media posts to determine the extent of the problems they cause. A robust and independent reporting system must be put in place.
Transit & Traffic: Robotaxis add more VMT to San Francisco during a climate and traffic violence crisis. If we allow AVs to become as pervasive as their proponents want them to be, our cities will only be forced further into car dependency because more people will just want to use a car more often since they don't have to control the car themselves. AVs are going to do to our cities (and driving experiences) what urban freeways and road expansions did: while their proponents claimed that they would result in transformative changes to our transportation system, we now recognize that these were just overhyped marketing claims from entrepreneurs to sell more cars. Addressing the problems that come with car dependency means changing our cities and neighborhoods to function with fewer of them, driverless or not.
Labor: Moving humans from behind the wheel of a car to even more invisible positions in call centers & support cars makes them even easier to exploit and quashes unionization efforts. A just transition away from cars and car dominance means taking care of workers who are most affected by it, not just relegating them to more exploitable roles. We're proud to stand with the San Francisco Taxi Workers Alliance in this struggle to reign in robotaxis. Read their statement here.
Surveillance: AV companies partner with police and serve as tools of mass surveillance. They constantly capture audio and video without our consent. This unprecedented invasion of the public's privacy will likely have far-reaching effects on the rights of the general public. For instance, recently the Sacramento police department has forwarded surveillance data to states which could prosecute those seeking an abortion. A city-wide, moving network observing and analyzing everything that happens outdoors is something out of a dystopian movie, not a democratic society.
Accessibility: Robotaxi companies have made big promises about accessibility, but their actions show their true values. Their cars are not wheelchair accessible and do not pull up to the curb. Profit-driven robotaxi companies see accessibility as an afterthought. Without enforcement, their promises for the future will likely never materialize. Paratransit and transit are accountable to the public, but Cruise and Waymo are only accountable to shareholders.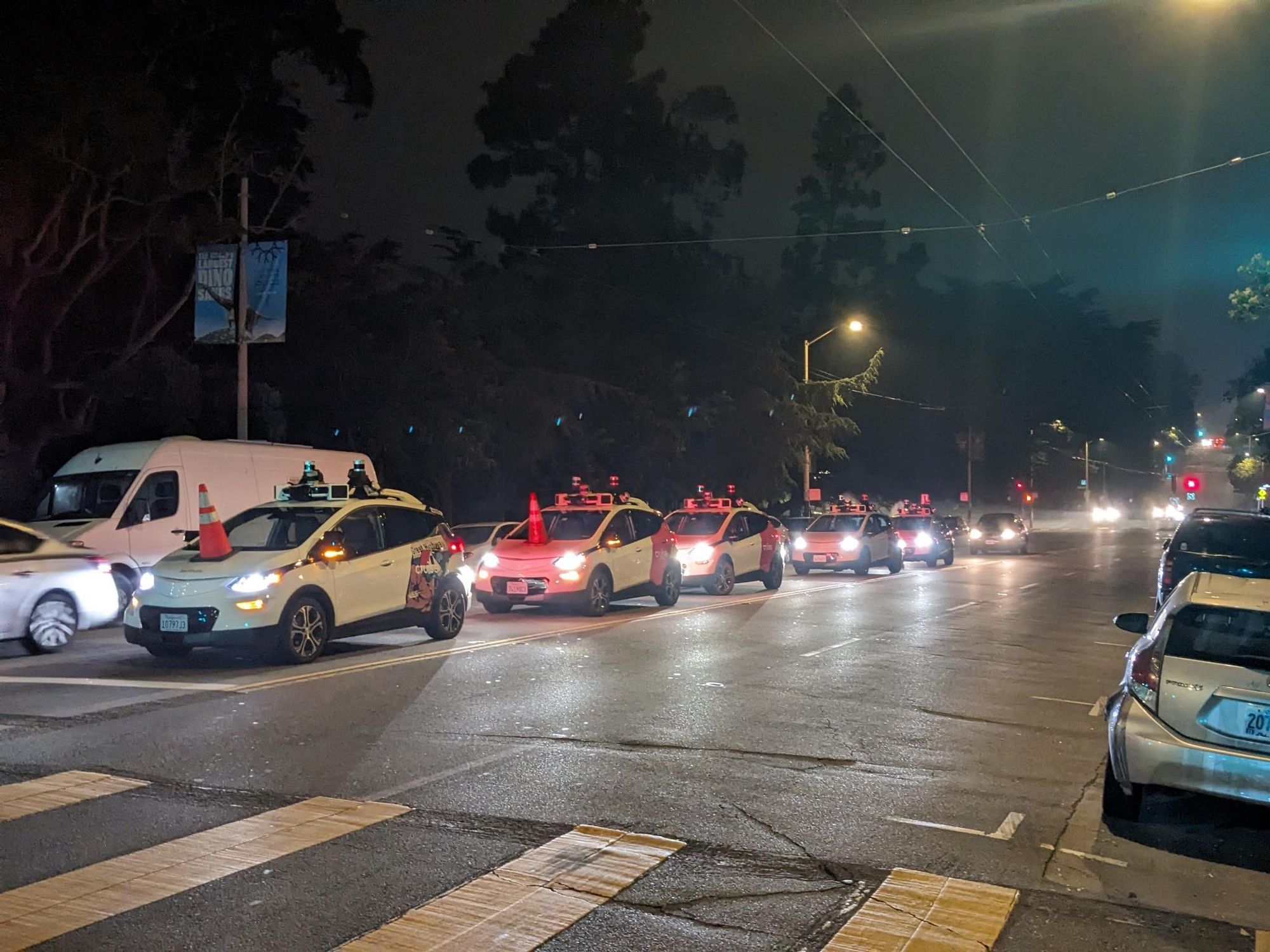 ---
AV failures, Crashes & Stalls
An incomplete list of failures and crashes by Cruise and Waymo driverless cars. This only includes failures with evidence from photos/videos, collision reports, or reputable media coverage. These are only failures where the AV was operating autonomously and partially or wholly at fault.
Bolded failures are more significant. Failures are listed with most recent first. Addresses are in San Francisco, CA unless otherwise specified. Hover over each emoji for a description of what it represents (or see the key below). This data is available as a spreadsheet. See something missing? Tell us here!
Key
Hover icons for description
💥
Crash
💨
Moving violation
🚦
Red light violation (excluding blocking the box and stopping past limit line)
🚨
Emergency responders obstructed or sidetracked, including failure to yield to lights/sirens
⚠️
Failure to yield to pedestrians or oncoming/merging traffic (excluding emergency lights/sirens)
⛔
Entered a closed area (emergency scene, construction site, street fair, etc)
🚴‍♀️
Bikeway blocked
🚎
Bus/transit blocked
🚶‍♀️
Crosswalk (or sidewalk) violation or obstruction
🗺️
Bad routing
🙃
Passenger or driver: inside, entering, or exiting AV
🙅‍♀️
Blocking the box (CVC 22526) or stopping past the stop line (21453(a))
🐌
Stall or stoppage
Crashes
Companies are required to report AV crashes. The CA DMV, CA Public Utilities Comission (CPUC), and the National Highway Traffic Safety Administration (NHTSA) all collect reports on different subsets of the crashes; none of the agencies receive reports on all the crashes. For example, only about 20% of AV collisions are reported to the state of California Public Utilities Commission (CPUC) (SFMTA).
The CA DMV publishes their received reports here. There have been reports for 74 crashes submitted in 2023 (as of June 27), most of which contend the AV was not at fault.
NHTSA data shows from June 2022 to May 2023, Waymo has been involved in a total of 25 collisions when self-driving, or a total of approximately 60 collisions between July 2021 and May 2023 (SFMTA).
Stalls
Cruises and Waymos stall dozens if not hundreds of times every day; these are just instances that people bothered to document. SF emergency dispatch "are getting at least one call a day about the vehicles stalling out or driving where they aren't supposed to go" (ABC7). In the best case stalls do the same harm as a double-parked driver, but in the worst case they may block buses, obstruct crosswalks, delay emergency services, or shut down intersections.
Stalls can happen for a few different reasons. The computers that are "driving" the car are built into the car itself, so theoretically no network connection is needed. However the AVs often encounter situations they do not understand, and their usual response is to stall and turn on their hazard lights. Then it is up to remote workers to provide direction or clarification to the AV's computers. In this sense, these AVs are not really "self-driving" or "autonomous;" really they're "remote-directed" vehicles.
This case, when an AV is waiting for human intervention, is probably the most common reason for a stall. Even when intervention is successful, it often seems to take multiple tries as the AV struggles with its situation. While trying to escape a stall you can often see AV driving slowly and erratically, driving forward and backward in-place without making much progress.
However, often AVs are not able to escape a stall situation even with remote human intervention. In this case human workers need to take over full control of the vehicle. Note that is never done remotely—a network failure would lead to sudden loss of control. That is why workers must drive out to the stalled car and drive it away themselves.
Interestingly, the reality is worse than just single AVs stalling randomly. When one AV stalls it iself creates a new unusual situation for other AVs to stall at. This can quickly escalate into several AVs stalling together to create a road block. Some examples: 5 Cruises strewn across Mission St near 29th St (Reddit), stalled Cruises at Geary & Polk and Geary & Larkin (Reddit), and more above. In the funniest example, this effect led to two Cruises trapping car drivers by stalling at opposite ends of a block of Washinton Street (Twitter).
Finally, AVs' dependence on remote intervention leads to catastrophic failure in the worse case: when there is a system or network outage (Wired; SFist). In this case dozens or hundreds of cars can stall all across the city. The cars are left to drive themselves, eventually failing into stalls, often grouped together into roadblocks all across the city (Reddit; Twitter repost). A system outage during peak commute hours could bring the entire city to a standstill. But AV companies mainly operate a night, at least for now, and the most notable outage happened around midnight so the damage was limited.
---